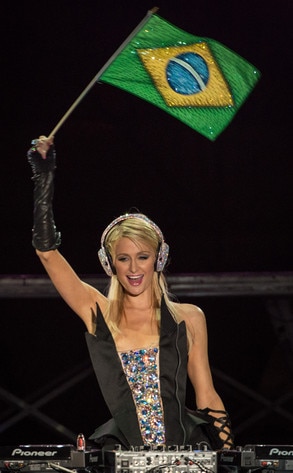 YASUYOSHI CHIBA/AFP/GettyImages
Jennifer Lopez and Kelly Clarkson weren't the only ones rocking out at Brazil's Pop Music Festival this weekend in São Paulo.
Paris Hilton made her big-time professional DJ debut at the bash, playing a one-hour set for 30,000 concert goers.
So how'd it go? Read on for all the details...
READ: Paris Hilton Gets New Job, Follows in Jennifer Lopez's Footsteps
"I had so much fun deejaying at the Pop Music Festival," the 31-year-old heiress exclusively tells E!. "I could not have been happier with the crowd's reaction to my set. It felt so good to be in control of the party and see everyone dancing!"
Hilton took the stage after Lopez and Clarkson's performances, closing the show with songs like Rihanna's "We Found Love" and her own brand new single "Last Night."
Hilton says she's been spending lots of time perfecting her skills on the turn tables. "Recently I have been working in the studio with DJ Poet, who produces and deejays for the Black Eyed Peas," she dished.
PHOTOS: Fashion Spotlightâ€"Paris Hilton
"I also spent the last year traveling to different shows around the world with Afrojack," she says. "This was a great experience, to watch how he engages the crowd and creates great energy at these parties."
But it's not like Hilton will be dropping any of her many other business ventures to become a full-time DJ.
"My brand and stores and products will always be my business and that won't change, but music is my personal passion," she says. "Being a DJ you get to create the party and bring happiness to so many people with your music. For me this is something I am very excited about."
Now we want to hear from you. Are you excited for more music from DJ Paris Hilton? Sound off below!