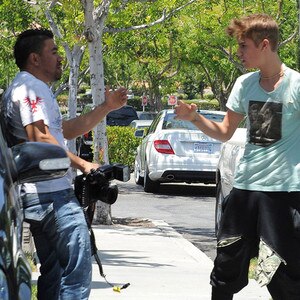 Raef-Ramirez/AKM-GSI
Is Justin Bieber trying out for The Amazing Race or something?
Detectives from the Malibu-Lost Hills Station of the Los Angeles County Sheriff's Department tell E! News that they have interviewed the paparazzo who has accused the "Boyfriend" singer of battery, will continue to talk to witnesses and plan to interview Bieber himself.
But, unless it's over the phone or Skype, etc., it sounds as if authorities won't be getting a hold of the teen for awhile.
MORE: The Justin Bieber-Mike Tyson Connection: Ex-Champ Tweets Biebs Boxing Pics Post-Paparazzo Incident
"ok. going to board. OFF TO EUROPE! PHASE 1 of operation secret concerts! lol. OSLO first stop. See u soon....and..." Bieber tweeted approximately 20 hours ago.
Sure enough...
"NORWAY!!! here with the team," Bieber just tweeted. "Loving the people! thank u. good food too."
He did promise over the weekend after his run-in with the caught-on-camera-but-yet-to-be-officially-unidentified shutterbug that he was "gonna focus on the important stuff. The music."
MORE: Justin Bieber Dispels Breakup Rumors, Announces Believe World Tour Dates
Bieber offered up his itinerary on Facebook yesterday: Oslo, Paris, Milan, Verona, Madrid, London, Cologne, Berlin, Mexico City, NYC and Toronto. (He says that he'll be back in his hometown on June 17.)
"Im ready to work...who knows...might do a FREE SHOW along the way for the TV special. stay tuned," he wrote.
Meanwhile, back in the States, Bieber's accuser told investigators that he was "physically battered" by the 18-year-old after he took a photo of him with paramour Selena Gomez in the parking lot of the Commons shopping center in Calabasas. He called the cops, but the couple left before deputies arrived, the man alleges.
Gomez, who on Sunday tweeted her appreciation to fans for their loyalty, didn't provide any more insight into what happened. Instead, she got into the holiday spirit, writing yesterday, "I hope everyone had a great Memorial Day/Weekend, had some [good] BBQ this weekend."