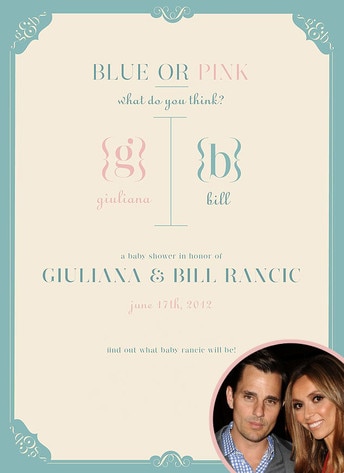 Jason LaVeris/FilmMagic
Can you imagine how excited Giuliana Rancic is right now?
The mom-to-be, who announced in April that she and husband Bill Rancic are expecting a baby via gestational carrier, has another baby shower planned for next month.
And we've got exclusive details!
MORE: Giuliana Rancic Sticks With E!
First of all, a big question is going to be answered at that partyâ€"and you can bet we'll be talking a blue streak afterward. Or a pink streak. Whichever.
As stated on the invitation, the theme of the June 17 shower is "Blue or Pink: What Do You Think?"â€"meaning, whether the Rancics are expecting a boy or a girl should become evident to their guests fairly quickly. (And we'll let you know what they find out, ASAP!)
MORE: Giuliana Gets Parenting Advice From Cameron Diaz, Elizabeth Banks, While Chris Rock...Claims Paternity?!
Giuluana previously teased that she expected Bill to slip up and spill the gender news before it was time, but it appears he's been behaving himself.
This, of course, won't be Giuliana's first (or, probably, her last) pre-baby celebration.
Right after her big announcement last month, her E! family threw her a surprise baby shower in the office, complete with mini-cupcakes and a unisex yellow and green color scheme.